WooCommerce free gifts and BOGO deals
Giving free products are the perfect way to value your customer and also get rid of unsold products. Our Conditional Discounts for WooCommerce plugin helps you define the free gifts to offer your customers based on so many rules that can be used individually or combined.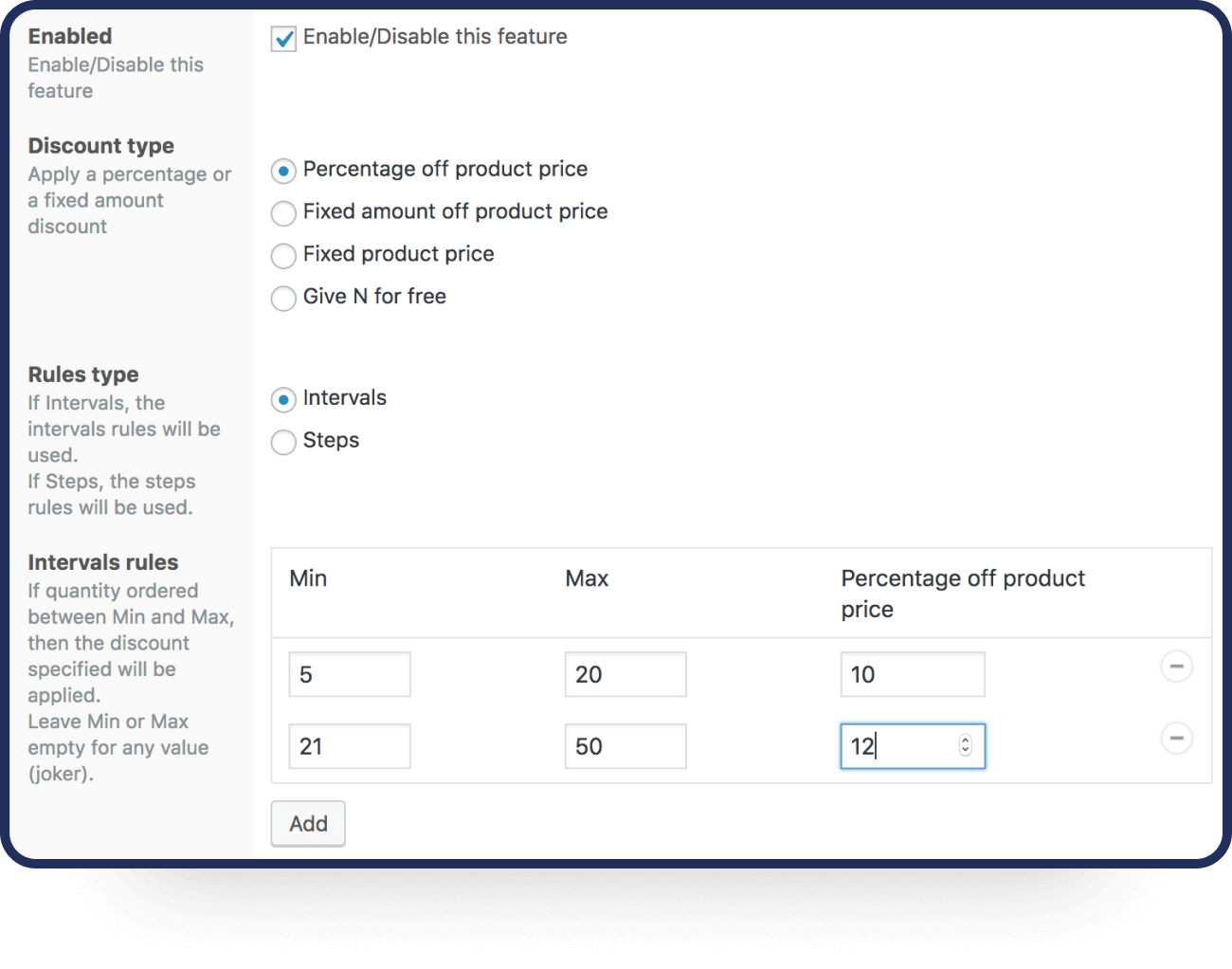 Buy One Get One Free (BOGO)
Get rid of products that are not moving and inspire more sales by offering two items for the price of one.
Gifts based on client email domain
Offer one or multiple free gifts to any customer who registers or logs in your store using an email address based on a specific domain name.
Gifts based on customers roles
Our Conditional Discounts for WooCommerce plugin automatically detects all the existing roles (even custom ones) from your store and helps you grant free gifts to customers according to their roles.
First time order gifts
Increase your chances to convert a first time visitor into a customer by automatically applying a free gift to his first order. This also improves your chance to turn him into a loyal customer.
Nth orders gifts
Reward and reinforce your customers' loyalty by assigning a free gift discount to those who purchased from your store a certain number of times.
Gifts based on total spent
Build your clients' loyalty by offering one or multiple products for free based on the total they spent in your store from their very first purchase.
Previously purchased products
Reward and boost your customers loyalty by giving out one or multiple products for free to those who purchased certain products from your store a certain amount of times.
Order subtotal with or without taxes
Give free gifts to the customers based on the amount that results as subtotal in their cart after they finish selecting their products. Depending on your preferences, this amount can be automatically calculated with or without taxes.
Gifts for reviewed products
Offering incentives for reviews are the perfect motivation for happy clients to speak out. This also increases your new visitors' confidence to buy from your store using actual customers reviews as social proof.
Free gifts based on users groups
Our Conditional Discounts for WooCommerce plugin can dynamically extract all the existing user groups from your WordPress installation and allow you to grant free gifts to any of them. Additional groups are created and managed by the groups plugin.
Gifts based on customers billing / shipping country
Create a free gift discount for your clients based on the billing or shipping country they use for the checkout, in order to boost your sales or increase your market share in these specific countries.
Gifts based on the shipping/billing state
Create a free gift discount targeting your customers, based on the billing or shipping state used for the checkout in order to increase your revenues in any specific state.
Gifts based on cart items count
Set a free gift discount regarding the number of different items in the client's shopping cart, to encourage your clients to shop more from you and increase your average sales.
Free gifts for products in the cart
Linking popular products with less popular ones can help get rid of unsold stock. Our Conditional Discounts for WooCommerce plugin gives you the ability to create free gifts based on the products in the client's cart.
payment method based gifts
Increase the chances of a payment gateway method being chosen by your customers, by offering your customer a free gift based on the payment gateway selected to checkout.
Free gifts for newsletters subscribers
Offer a gift in exchange of your customer's email address to quickly increase your subscribers database and create a direct channel to market new products and deals to them. Mailchimp, SendinBlue and other mailing systems are supported.
Gifts for affiliates
Attract more customers to your shop by giving free gifts to customers who land on your Woocommerce shop following an affiliation link.
Free gifts based on shipping method
Free gifts can be a reward to customers who select a specific shipping method in your WooCommerce store. Perhaps a particular shipping method would cost less to the shop manager than others, and you need a way to make users choose it over the others.
Shop currency based gifts
Currency conversion rates fluctuate every minute, all around the world, and while it is easy to present your WooCommerce products in more than one currency, sometimes money is lost in the conversions. A shop manager can inspire customers to use your preferred currency by giving free gift rewards if they do.