WooCommerce Bulk discounts
With our Conditional Discounts for WooCommerce plugin, there are so many combinations you can come up with, to make bulk discounts attractive and beneficial to your customers.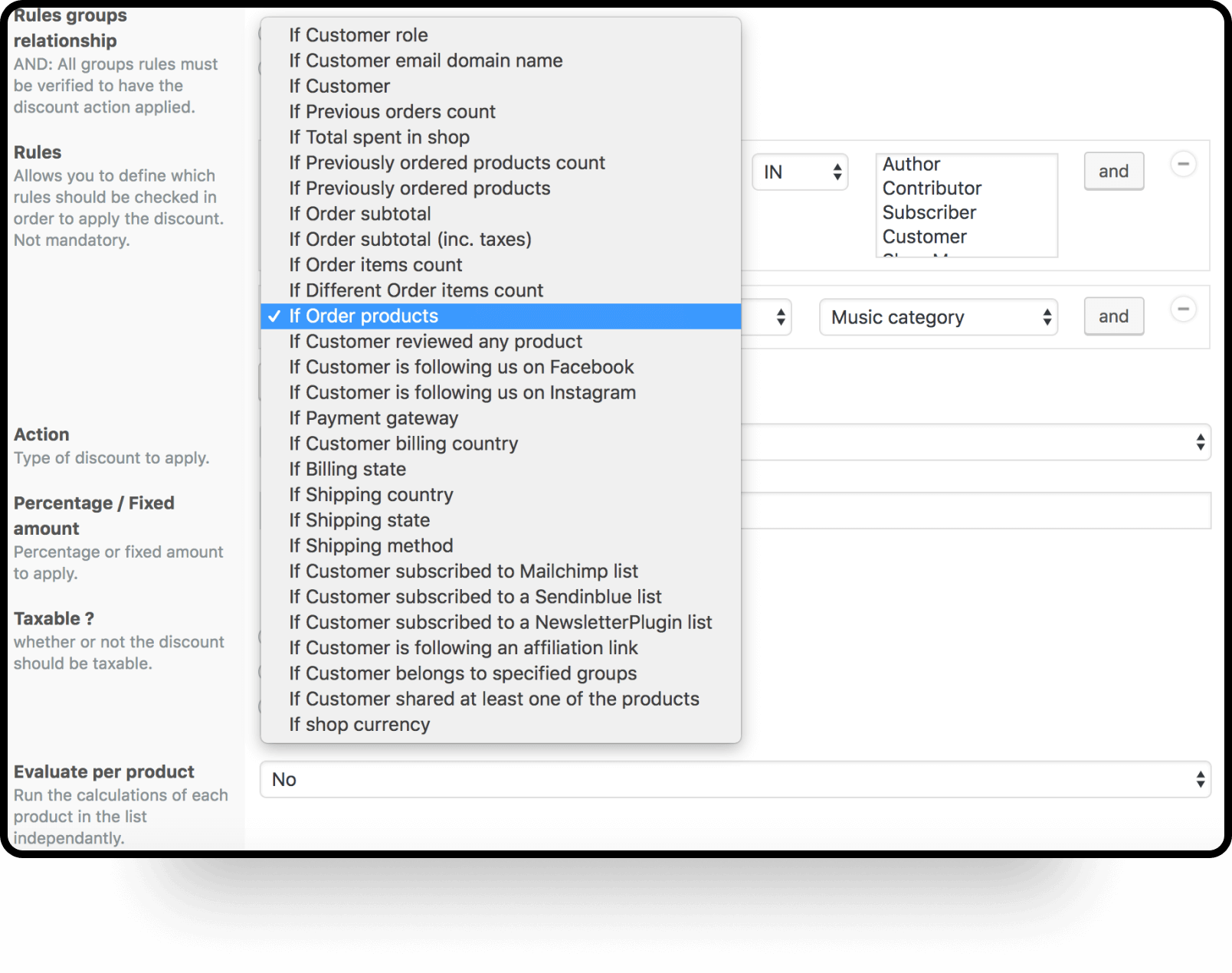 Categories bulk discounts
Setting up bulk discounts on dozens if not thousands of products one by one can be exhausting. Conditional Discounts for WooCommerces allows you to do that in no time by allowing you to create your own products list based on any criteria they have in common such as categories, tags and so on. Once the list is setup, create your bulk discount strategy once and target all products in your list within seconds.
Read the tutorial
Tags Based Bulk Discounts
You can create bulk discounts for your WooCommerce products based on another common property between your WooCommerce products: tags. Most WooCommerce products have numerous tags even across categories and these criteria can be used when targeting these products across your WooCommerce store.
Custom Property Bulk Discounts
Conditional Discounts for WooCommerce lets you create bulk discounts for several products using custom properties as another uniting factor. This custom property can be any attribute such as product price, metas, stock availability, or variation attributes.
Bulk Discounts based on Customer Profile
Create bulk discounts based on the customer's profile details such as his role user group, or role in the store. If your WooCommerce store deals with wholesalers or clients with particular profiles, you can create different bulk discount strategies and link each to a specific customer profile.
Read the tutorial
Tiered Pricing
Offer different pricing versions of your product so your clients can pay what they can afford without falling in a price category that does not work for them. Simply set exact intervals or steps for your discounts and exclude any value that does not "fall in". Our tiered pricing feature ensures that only the number of products that match the rules you have set, receive the discount. Any extra is treated at the usual cost price.
Read the tutorial
Bulk Discounts by Intervals
If the discount you have in mind for your customers involves a minimum and maximum quantity, then this is the feature for you. Bulk discounts by intervals lets you set up discounts by providing a quantity range within which your customers' selection must fall, to enjoy the discount.
Read the tutorial
Bulk Discounts by Steps
Is your intended bulk discount going to be in increments or in multiples of specific numbers? If yes, then the bulk discounts by steps feature of the Conditional Discounts for WooCommerce is what you need to make this a reality.
Read the tutorial
Percentage Bulk Discounts
Put bulk discounts based on percentages of product prices or the whole cart subtotal, in place for your customers, using the Conditional Discounts for WooCommerce plugin. The more they buy, the more the discount they enjoy! It is a win for all parties!
Fixed amount Bulk Discounts
Set up bulk discounts that deduct a fixed amount every time the rules you put in place using the Conditional Discounts for WooCommerce plugin are met. This is an action that is available for every single type of discount rule you create or combine with others, to give your customers discounts based on any possible conditions.