More woocommerce discounts
There are almost no limit to the number of discount included in our Conditional Discounts plugin for WooCommerce.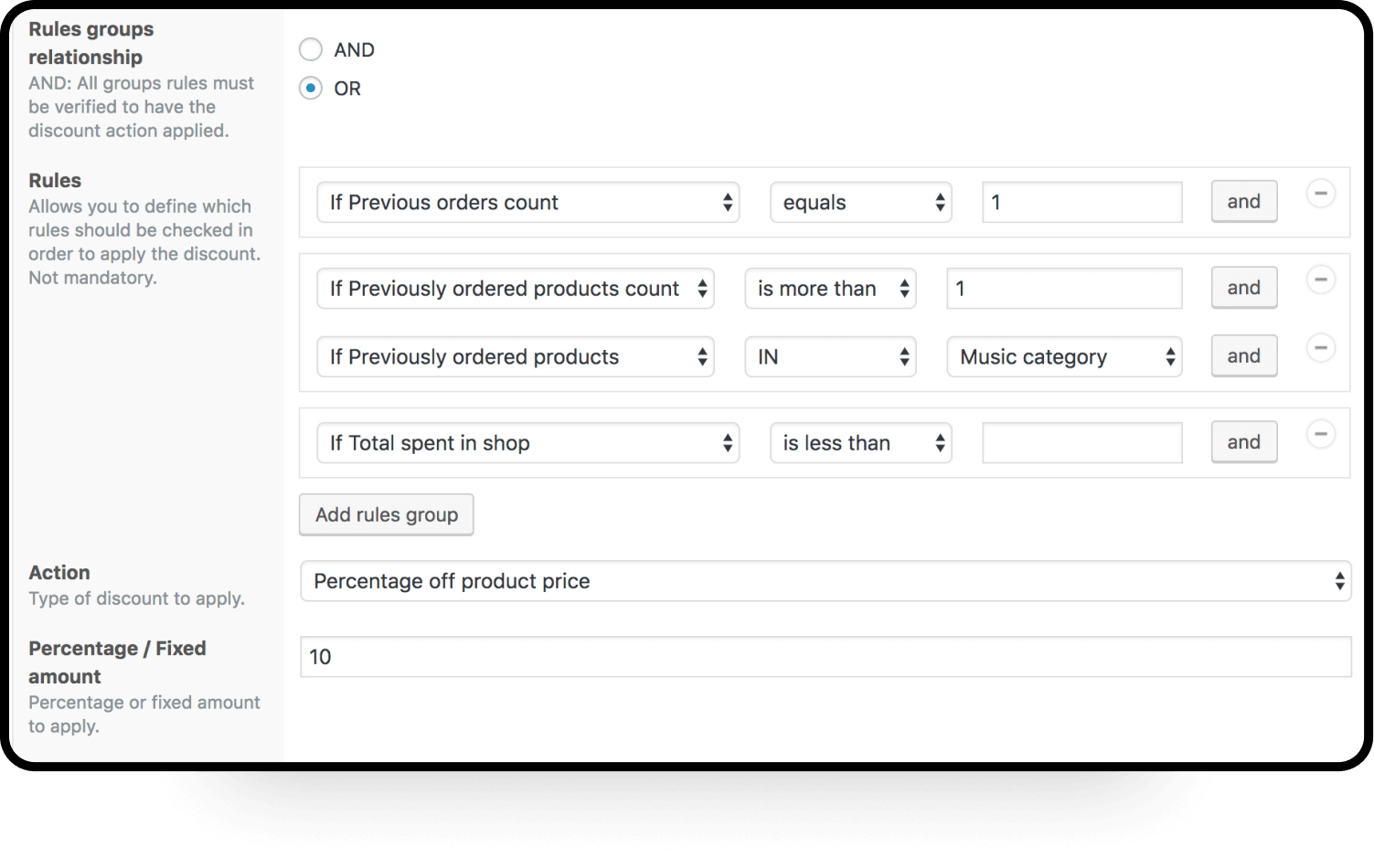 Periodic discounts
Eliminate the risk of forgetting to set the periodic discounts when needed. Set a discount that is automatically enabled at a defined frequency.
Read the tutorial
Discounts on product categories, tags, and meta
Easily apply a discount on products of an entire category or based on their tags, their author or any other taxonomy or criteria using the product targeting system included in the plugin.
Discounts for affiliates
Attract more customers to your shop by applying deals to customers who land on your Woocommerce shop, following an affiliation link.
Read the tutorial
Discounts for newsletters subscribers
Offer a gift in exchange for your customer's email address to quickly increase your subscribers' database and create a direct channel to market new products and deals to them. MailChimp, SendinBlue and other mailing systems are supported.
Discounts based on shipping method
Discounts can be a reward to customers who select a specific shipping method in your WooCommerce store. Perhaps a particular shipping method would cost less to the shop manager than others, and you need a way to make users choose it over the others.
Read the tutorial
Discounts based on payment gateway
Increase the chances of a payment gateway method being chosen by your customers, by offering your customer a free gift based on the payment gateway selected to checkout.
Read the tutorial
Discounts depending on store currency
Currency conversion rates fluctuate every minute, all around the world, and while it is easy to present your WooCommerce products in more than one currency, sometimes money is lost in the conversions. A shop manager can inspire customers to use your preferred currency by offering a discount if they do.