Posted at
October 9, 2018
|
|
In
Imagine you were able to rapidly build your newsletter list just by offering woocommerce mailchimp discount. You can use woocommerce newsletter discounts in order to regularly market new products and services , send them new offers, tips and anything you want . You got the picture? Great!
Now picture the same context but this time let's use your social networks for example. You have no guarantee that they will see your post because the probability that your publication reaches their wall is around 12%!
According to Business2Community, that percentage is due to the fact that there are too many posts, and too little space on Facebook. "50,000,000 businesses post 1.5 times a day to reach just 2%, a small and shrinking percentage of their audience".
Which channel do you now think is worth the deal?
I'm sure you guessed right! Newsletters are the most effective way to reach your customers without distraction.
So below we will look into the reason you need to grow your mailing list, some email marketing statistics, how to give out woocommerce newsletter discounts, and tips that will go a long way to boost your mailing list.
Now let's get to the real stuff!
Why should you grow your newsletter subscribers list?
#1 A Direct channel of communication with your customers is essential to take your business to the next level
Keeping in touch with your clients, is mandatory for the growth of your business. That is why you need to get their email addresses. This can only be possible if you have something to offer them in exchange. Giving them a gift in exchange of their e-mails could go a long way to grow your subscribers list.
Let me surprise you a minute. Email is the number one marketing tool in the world, and will always be. You might start to disagree with me, but hold it! Let's look at this figures.
According to The Social Media Hat and About.com:
Facebook has 1.55 billion active users
Instagram has 400 million active monthly users
Twitter has 320 million active users
LinkedIn has 100 million active users
YouTube has 1 billion active users
Google+ has 540 million active monthly users
All of these social networks have at least one email address which makes at least 2.5 billion active users.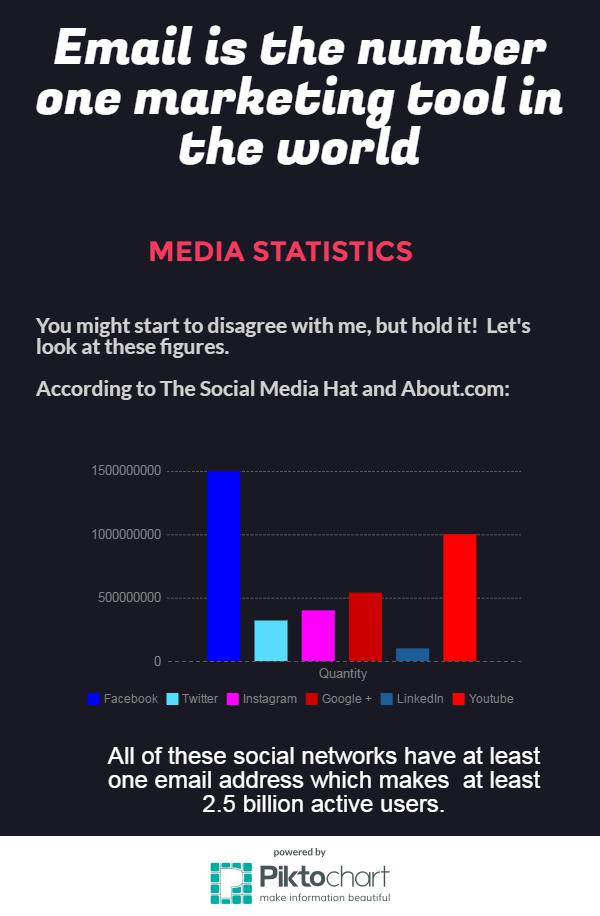 And that's just estimation! Just think about it. That's not all.
1- By the end of 2016, the total of email accounts would have increase to over 4.3 billion accounts (Radical Group)
2- There are 3x more email accounts than Facebook and Twitter combined (Radicati Group)
3- Knowledge workers on average spend 13 of their working hours each week working with their email account (McKinsey)
4- 92% of adults that go online use email, 61% of them use it on an average day, and mostly those with a college degree or an income of <$75.000 according to Pew Research.
5- 90% of business people make more use of email more than they did last year ,according to the Osterman Research.
6- Email is 40x more successful in acquiring new customers than using either Facebook or Twitter.
7- There are more possibilities for you to get a click-through from an email than from a tweet.
8- Companies that send over 100.000 emails a month see a 94% return on investment says MECLABS
9- Email marketing has proved to be an effective way to grow and maintain relationships with clients even if they are not actively purchasing products says the Nielson Norman Group
Now getting them to sign up will be your first headache. You would have to give them a strong reason to leave their email address. So what do you do next?
How to collect these valuable emails ? Give them an incentive!
Discounts are a good way to attract customers to respond to a call-to-action, and Conditional Discounts for WooCommerce helps you to assign any type of discount to your subscribers. But right now we are interested in growing your newsletter.
So you would give out discounts to collect emails. In other words " Give me something and i will give you something too."
To set up this woocommerce newsletter discount you will need one of this three mailing options:
Mailchimp: You can send, market and manage your mailing list and do much more with mailchimp. They have the paid and free version.
Sendinblue: helps you to manage your emails or newsletter, you can send bulk messages, both small businesses or large scale enterprises can use it for email campaigns, automated messages in the language of your choice. You can choose between the premium and freemium version.
Newsletter plugin list: An easy and free list building tool, create,send and track emails headache free.
So to set-up your discount, first of all go to the settings of the plugin Conditional Discounts for WooCommerce, set the API parameters of your newsletter by :
Go to Discounts > Settings
Fill the required fields
Save your changes

Next click on Discounts > New Discount menu to access the new discount page.
After setting up the basic discount properties such as the start and end date, periodicity and user limit, set the rules relationship.
Then click on the Add rules group button to create a new rules set.
Select the rule "If customer subscribed to Mailchimp list, Sendinblue list, or Newsletter Plugin list,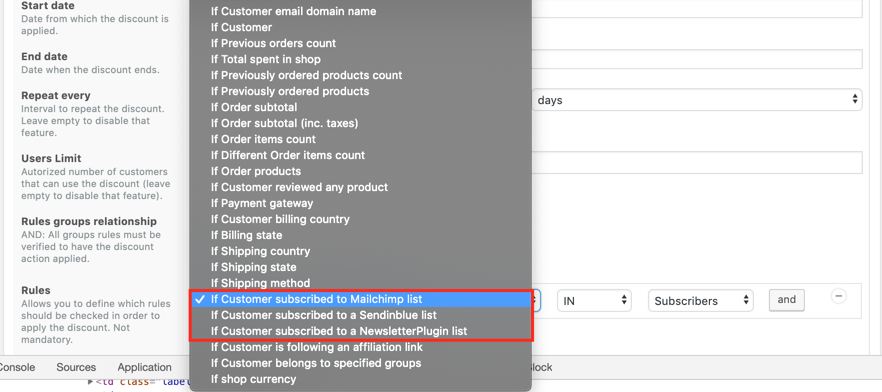 5. After selecting the rules based on the newsletter serviced installed on your woocommerce shop.
6. Select the type of discount to apply. Here you have three possibilities (you can apply the discount on product price, cart subtotal or give free gift)
7. Select the percentage/ fixed amount/gift according to the type chosen in the step above ( you can apply a type of discount either on product or order)

8. Select the previously created product list on which the discount will be applied if you need to apply the discount off some products prices
9. Choose whether or not to display the discount on product and shop page
10. Then "Publish"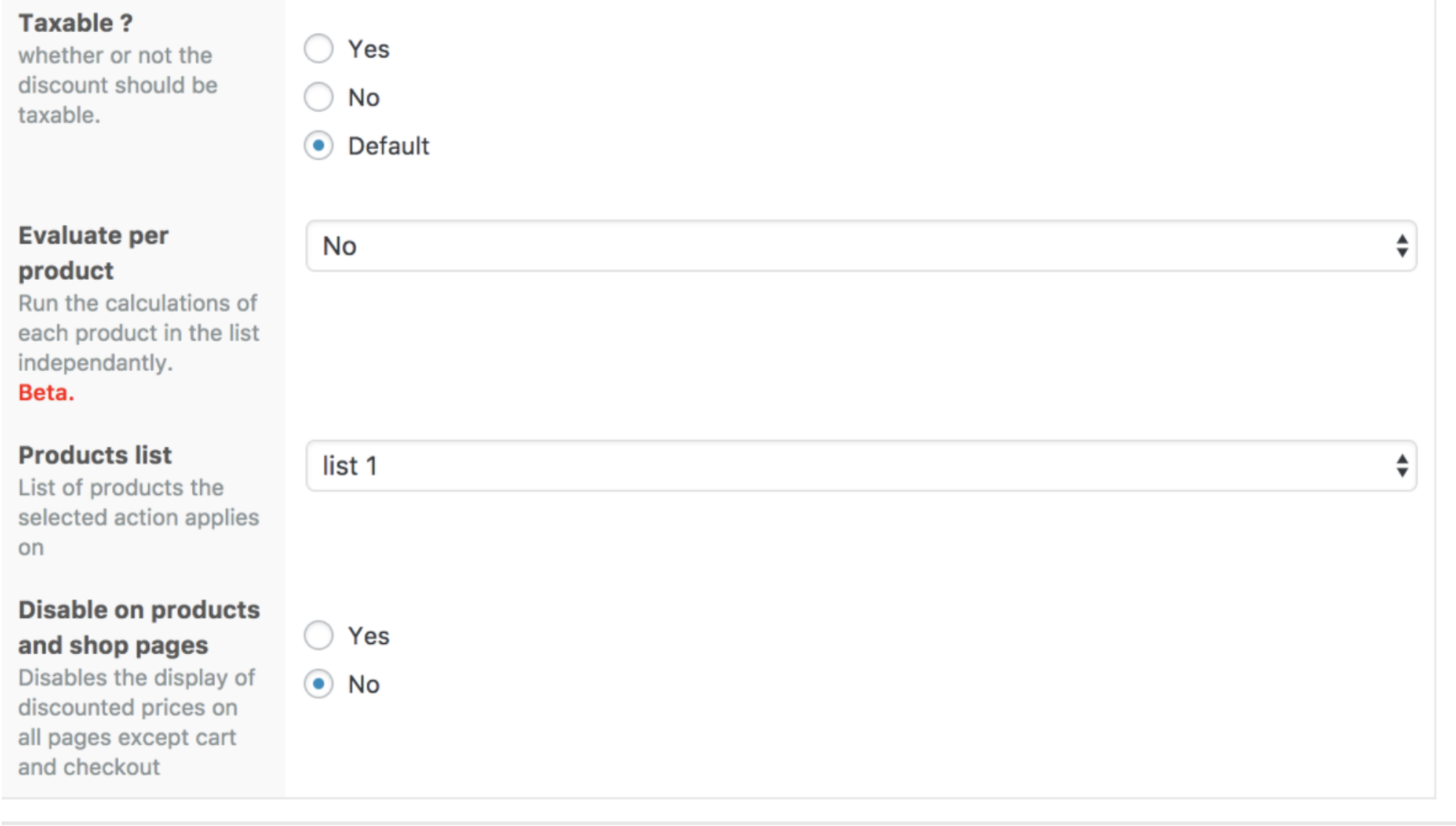 As seen previously, you can set your woocommerce membership discount and apply it on products or on cart subtotals. Three possibilities are offered to you when you choose to apply it on either products or cart subtotals:
Set the percentage to be applied on the product price or the cart subtotal (including taxes or not)
The fixed amount to be withdrawn from the product price or the cart subtotal (including taxes or not)
Fix the product price
Click on " Publish" to save your work
But you must make sure the following DO's are checked!
1- Make sure your visitor CAN and WILL see your optin form : Your sign-up form must be clear and visible enough for the user to see your offer. You can either place them on the side bar or get the pop-up styles. Let your "offer message" be compelling enough to make the user give out his email address.
2- Be sure that your emails are not marked as spams: You can use a spam score checker to be sure your emails are not flagged as SPAM. This tool will help measure the HTML, content and subject of your email and the chances of it making it into your subscribers inbox.
For example here are 3 tools you can use to test your mails:
3- Don't send bullshit: Email marketing is not a game! Always send a well-structured and meaningful content to keep the interest of the user. Even if he is not purchasing from you, the goal is to never let him unsubscribe!
4- Measure and analyze the statistics of your email marketing campaign: Try and identify the days sent, the keywords and the subjects that gave your emails a high open rate and work on that. Also remove non-existing mails to avoid a repetition.
Conclusion
If you are able to apply the discount that is suitable to your clients, you will gain in loyalty, more subscriptions, and at a low cost. You can determine what you want to offer and to whom all tailored to the vision you have for your Woocommerce shop.